Can I preach a sermon without notes?
We all want freedom in the pulpit to preach dynamic messages to our congregations. But is it possible from week to week to preach messages without notes?
In his book How To Preach Without Notes, Charles W Koller suggests it is possible and it should be the goal of every preacher.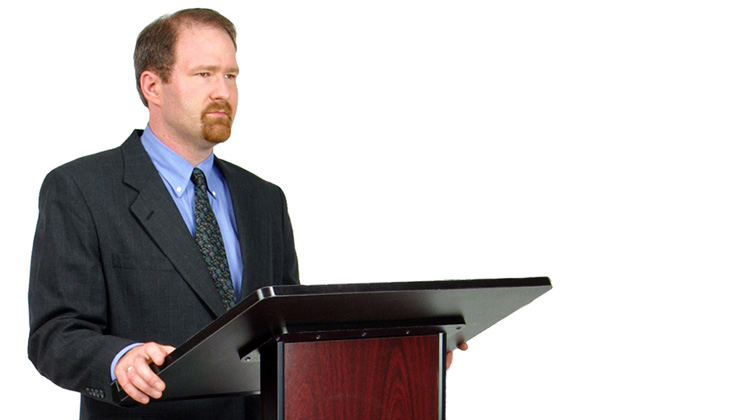 However, we must understand that preaching without notes is not about impromptu or extemporaneous preaching. Preaching without notes is a technique that allows the preacher freedom in the pulpit to preach a message without being tied to a manuscript which he feels he must read.
This does not mean that there is no preparation. It does not mean you stand in the pulpit with little content and just waffle on.
Preaching without notes is all about preparation. In fact, what the preacher does in the study during the week will free him to deliver a message to his congregation without being tired to his notes.
It is also important to realize that preaching without notes does not mean that you don't take any notes into the pulpit. Charles W Koller encourages all preachers to take their notes with them into the pulpit so that at any time they should need them, they are at hand.
So what is the key to preaching without notes?
The key to preaching without notes is in the way you structure the message. Charles W Koller places a great emphasis on the sermon outline as the key to free the preacher from his notes. The sermon outline becomes the road map for presenting the message to the congregation.
The Structural Components of the Sermon
Charles W Koller states that a strong message is made up of strong parts. The introduction introduces. The illustrations illustrate. The conclusion concludes. The sermon outline expands and explains the sermon topic.
The greatest difficulty for most preachers is creating a workable sermon outline. It takes time to organize sermon thoughts into a great-workable sermon outline. Charles Koller notes that spending time to carefully phrase the sermon topic, sub-points and incidental points will pay great dividends to both the preacher and the hearers.
Charles Koller gave an example of a workable sermon outline. His topic was: "The World's Most Attractive Church. The main points were: they were a united church, they were an informed church, they were a spiritual church and they were a witnessing church.
The four sub-points were complete statements, mutually exclusive and parallel in form. These sub-points expanded and explained the sermon topic. The sermon outline has cohesion and sequence.
Can I preach a sermon without notes? I believe if you follow carefully Koller's technique, it is possible to preach without notes and find a great freedom in the pulpit without reading a manuscript or you can be less reliant on a manuscript.
You can purchase How To Preach Without Notes by Charles W Koller by clicking on this link – Preaching Without Notes.