Top 5 One Volume Commentaries on the Bible: When I studied preaching at seminary, I was taught to diagram the original text, to develop an exegetical outline from the diagrammatical outline, to develop a homiletical outline from the exegetical outline and finally to develop a preaching outline from the homiletical outline.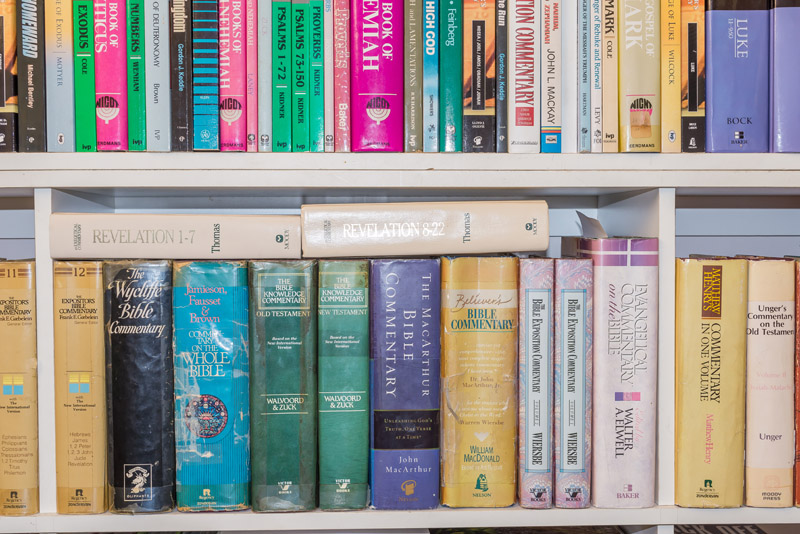 Our homiletical professor made it very clear that once we had done all of this, we needed to check to make sure that we were on the right track when it came to interpretation and application of the text of Scripture. This is where one volume commentaries of the Bible were very practical. If the commentaries were saying the same thing as us, then we were usually on the right track with understanding the passage of Scripture that we were going to preach.
In light of this exercise, I have accumulated several good one and two volume commentaries of the whole Bible. The Top 5 One Volume Commentaries on the Bible are the ones that I find best when it comes to finding information about the text very quickly.
1. Believer's Bible Commentary by William MacDonald
Written for people from every walk of life, the Believer's Bible Commentary is clear and understandable enough for everyday use – turning complicated theology into practical understanding. Yet it also provides plenty of resource material for more advanced students, as well as for preachers, teachers, and writers.
William MacDonald tackles the controversial issues head-on, taking a theologically conservative stand, yet presenting alternate views with fairness. The Believer's Bible Commentary is a friendly guide to exploring the deeper meanings of every biblical book. This new edition includes 14 pages of 4-color maps of the Holy Land and other study helps.
2. The MacArthur Bible Commentary: Unleashing God's Truth, One Verse at a Time by John MacArthur
One of America's leading Bible expositors now brings us his own one-volume Bible commentary. John MacArthur is well-known for his MacArthur Study Bible and MacArthur Bible Handbook. In this one-volume commentary, John MacArthur presents a phrase-by-phrase treatment of the whole Bible in more than 2000 pages. It provides a broad overview of each book of the Bible, and it is marked by the internal consistency that results from having a single commentator. This one-volume commentary takes a theologically conservative stand in presenting the comments.
3. The Bible Knowledge Commentary: An Exposition of the Scriptures by Dallas Seminary Faculty
The Bible Knowledge Commentary is a commentary that discusses the Bible verse by verse and often phrase by phrase. This commentary is written from a theologically conservative perspective.
The Bible Knowledge Commentary is a two-volume commentary – Old Testament and New Testament volumes. Nevertheless, I have included it here with the one-volume commentaries of the Bible.
These three whole Bible commentaries (above) are the ones that I used the most when it comes to finding general information about the texts of the Bible.
4. The Wiersbe Bible Commentary by Warren W. Wiersbe
The Wiersbe Bible Commentaries are a two-volume commentary set of the Old and New Testaments. Wiersbe is a theological conservative commentator. Wiersbe Bible Commentaries are easy to read with personal application as well as biblical meaning.
5. The Wycliffe Bible Commentary edited by Charles F. Pfeiffer and Everett F. Harrison
I sometimes use this commentary to check general information about the biblical text. It is written from a theologically conservative point of view.
Concluding Comments: The reason I used these one-volume and two-volume commentaries is because I simply want to quickly find general information about a biblical text without having to read pages and pages of commentary.
Believer's Bible Commentary by William MacDonald
The MacArthur Bible Commentary: Unleashing God's Truth, One Verse at a Time by John MacArthur
The Bible Knowledge Commentary: An Exposition of the Scriptures by Dallas Seminary Faculty
The Wiersbe Bible Commentary: by Warren W. Wiersbe
The Wycliffe Bible Commentary edited by Charles F. Pfeiffer and Everett F. Harrison